Description
This uncirculated elongated coin has been pressed on a copper penny (may be Lincoln or Wheat).
Tyler Tyson
1
has created over 200 different designs so far and he is still going strong.
Tyler
2
is coming out with a catalog very soon. In the meantime, you can contact him at
zyturgion@hotmail.com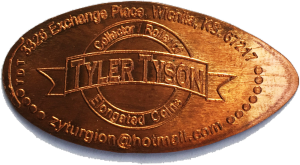 The bald eagle3 is both the national bird and national animal of the United States of America. The bald eagle appears on its seal. In the late 20th century it was on the brink of extirpation in the contiguous United States. Populations have since recovered and the species was removed from the U.S. government's list of endangered species on July 12, 1995 and transferred to the list of threatened species. It was removed from the List of Endangered and Threatened Wildlife in the Lower 48 States on June 28, 2007.
Bald eagles are not actually bald; the name derives from an older meaning of the word, "white headed". The adult is mainly brown with a white head and tail. The sexes are identical in plumage, but females are about 25 percent larger than males. The beak is large and hooked. The plumage of the immature is brown.
---
Source: PennyCollector.com ↩

Source: PennyCollector.com ↩

Source: Wikipedia.org ↩