Description
This uncirculated elongated coin has been pressed on a copper penny (may be Lincoln or Wheat).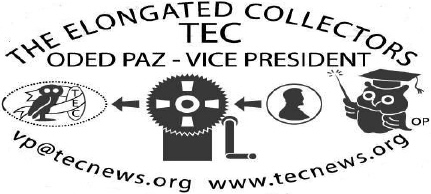 Oded Paz is a designer and roller of elongated coins.

During his tenure as TEC's V.P. (2005-2009), he designed many of TEC's elongated coins.

Oded continues to design and roll many coins for worthy causes, Coin Clubs, Coin Shows, Coin Dealers, charities and friends.
Oded Paz'1 fascination with elongated coins started quite a few years ago. He started trading, buying on eBay, buying at different coins shops and going on many smashing trips, probably too many to remember. Oded Paz2 enjoys designing and rolling these coins and hopes to continue designing more coins in the future!
Prince Rogers Nelson3 (June 7, 1958 – April 21, 2016) was an American singer, songwriter, multi-instrumentalist, and record producer.
Prince was a musical innovator who was known for his eclectic work, flamboyant stage presence, extravagant dress and makeup, and wide vocal range. His music integrated a wide variety of styles, including funk, rock, jazz, R&B, new wave, soul, psychedelia, and pop. He has sold over 100 million records worldwide, making him one of the best-selling music artists of all time. He won eight Grammy Awards, six American Music Awards, a Golden Globe Award, and an Academy Award for the film Purple Rain. He was inducted into the Rock and Roll Hall of Fame in 2004, his first year of eligibility.
---
Source: OdedPaz.com ↩

Source: PennyCollector.com ↩

Source: Wikipedia.org ↩