Description
This uncirculated elongated coin has been pressed on a copper penny (may be Lincoln or Wheat).
Tyler Tyson
1
has created over 200 different designs so far and he is still going strong.
Tyler
2
is coming out with a catalog very soon. In the meantime, you can contact him at
zyturgion@hotmail.com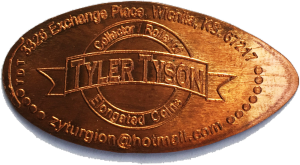 A top hat,3 frequently colored red, white and blue, or with stars and stripes similar to those on the American flag, is part of the regular costume of Uncle Sam, a symbol of the United States.
A top hat, beaver hat, high hat, silk hat, cylinder hat, chimney pot hat or stove pipe hat, sometimes also known by the nickname "topper", is a tall, flat-crowned, broad-brimmed hat, worn by men from the latter part of the 18th to the middle of the 20th century. By the end of World War II, it had become a rarity in ordinary dress, though it continued to be worn in specific instances, such as state funerals, also by those occupying prominent positions in the Bank of England, by certain City stock exchange officials and occasionally when passing between the Law Courts and Lincoln's Inn, London by judges of the Chancery Division and Queen's Counsel.
---
Source: PennyCollector.com ↩

Source: PennyCollector.com ↩

Source: Wikipedia.org ↩