Description
This circulated coin has been cleaned, shows wear and tear and is pressed on a copper penny.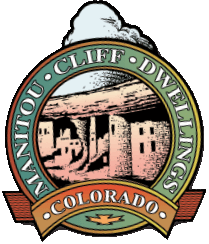 The Manitou Cliff Dwellings1 are a group of relocated Anasazi ruined cliff dwellings and a museum located just west of Colorado Springs, Colorado on U.S. Highway 24 in Manitou Springs.
The Anasazi Museum was established and the cliff dwellings built starting in 1904, and were opened to the public in 1907. The museum features displays about the lives of the ancient Anasazi, including exhibits of archaeological artifacts, tools, pottery and weapons. Visitors can also walk through the ancient-style ruins outside.
The machine2 is located on the bottom level of the gift shop, just outside the entrance door.
The Retired designs were:
1) Manitou Cliff Dwellings Museum, Anasazi Balcony House
2) Manitou Cliff Dwellings Museum, Eagle Dancer
3) Pikes Peak and Bighorn Sheep
4) Manitou Springs, CO, Cliff Dwellings Museum, Anasazi Balcony House
---
Source: Wikipedia.org ↩

Source: PennyCollector.com ↩