Description
This uncirculated elongated coin has been pressed on a copper penny (may be Lincoln or Wheat).
Tyler Tyson
1
has created over 200 different designs so far and he is still going strong.
Tyler
2
is coming out with a catalog very soon. In the meantime, you can contact him at
zyturgion@hotmail.com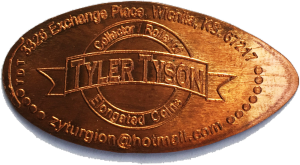 Graduation3 is getting a diploma or academic degree or the ceremony that is sometimes associated with it, in which students become graduates. Before the graduation, candidates are referred to as graduands. The date of graduation is often called graduation day. The graduation ceremony itself is also called commencement, convocation or invocation. Normally, the ceremony and name apply to high school and above (the next ascending levels being Associate's, Bachelor's, Master's, and Doctorate).
In the United States of America, graduations for elementary school or even Kindergarten have been a fad of recent years. When ceremonies are associated, they usually include a procession of the academic staff and candidates and a valediction. At the college and university level the faculty will usually wear academic dress at the formal ceremonies, as will the trustees and degree candidates.
---
Source: PennyCollector.com ↩

Source: PennyCollector.com ↩

Source: Wikipedia.org ↩