Description
This circulated coin has been cleaned, shows wear and tear and is pressed on a copper penny.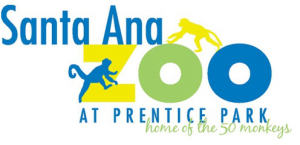 The Santa Ana Zoo at Prentice Park1 in Santa Ana, California is a 20-acre (8.1 ha) zoo focusing on the animals and plants of Central and South America. The Santa Ana Zoo hosts more than 270,000 people annually. The zoo opened in 1952 and is owned and operated by the City of Santa Ana. Joseph Prentice donated land for the zoo with the stipulation that the city must keep at least 50 monkeys at all times, the zoo maintains an extensive primate collection with over a dozen species from around the world.
The focus of the Santa Ana Zoo is recreation, education, and conservation. It was accredited by the Association of Zoos and Aquariums (AZA).
They2 have been known to let you in for free "just to smash your pennies".
Machine A in front of gift shop:
1) Train
2) Spider Monkey
3) Egret
4) Snake
Machine B located in the red barn:
1) Monkey hanging upside-down from a tree branch;
2) Camel;
3) Ocelot (miniature cheetah);
4) Anteater
---
Source: Wikipedia.org ↩

Source: PennyCollector.com ↩