Description
This uncirculated elongated coin has been pressed back in 2005 on a copper penny (may be Lincoln or Wheat) and shows by now a bit of patina (oxidized metal).
SS Jeremiah O'Brien1 is a Liberty ship built during World War II and named for American Revolutionary War ship captain Jeremiah O'Brien (1744–1818).

Now based in San Francisco, she is a rare survivor of the 6,939-ship armada that stormed Normandy on D-Day, 1944.

A living museum on the National Register of Historic Places and a National Historic Landmark, the O'Brien transports you back over seven decades to when sailors braved the harshest of high seas and threat of enemy attack.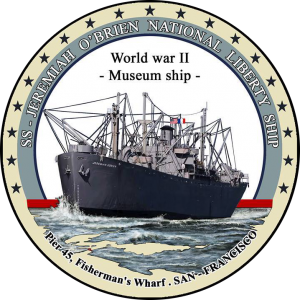 The SS Jeremiah O'Brien2 is one of two remaining fully functional Liberty ships of the 2,710 built and launched during World War II. The O'Brien has the distinction of being the last unaltered Liberty ship and remains historically accurate. Moored at Pier 45, Fisherman's Wharf, she is a premier San Francisco attraction.
The machine3 is located in the museum inside the ship near the front. It is not handicapped accessible and admission to tour the ship is $20. (cruises cost more, around $150). A self guided or guided tour is available. Quite an interesting ship indeed.
---
Source: Wikipedia.org ↩

Source: SSJeremiahOBrien.org ↩

Source: PennyCollector.com ↩